Visit the Anne Frank House with the Hop On – Hop Off Boat Tour!
We all know the famous red Hop On – Hop Off buses that you can find in all the main cities around the world. In Amsterdam, we've got them too, but we also got something different, we've got Hop On – Hop Off boats! Because of all the canals in the city center, a boat is an excellent way to get around. While you get from point A to point B with the Hop On – Hop Off boats you'll also have an amazing sightseeing experience. Enjoy the beautiful historic canals with the 16th-century canal houses along their banks. You will sail past many sightseeing highlights such as the Westerkerk (Western Church), the Noorderkerk (Northern Church) and the Magere Brug (Skinny Bridge).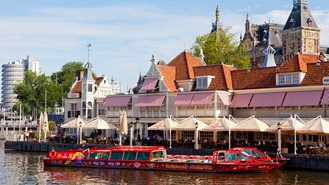 Anne Frank House
The Hop On – Hop Off boat has many stops around the city. One of the stops, for example, is right in front of the Anne Frank House. That makes it very easy to make your way to and from the Anne Frank House. This museum tells the story of Jewish wartime diarist Anne Frank. The building is the exact house that Anne Frank and her family hid in during the war. Even the hidden rooms at the rear of the house are still intact, and you can visit them. Other stops of the Hop On – Hop Off boats include the Rijksmuseum/Leidseplein, Central Station, Albert Cuyp Market and much more. That makes the Hop On – Hop Off boat a fantastic means of transport to discover the city.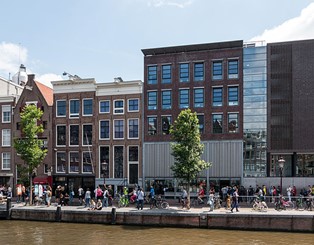 A great deal
We offer you a great value deal on the Hop On – Hop Off Boats. We offer this product in a 24-hour ticket or a 48-hour ticket. So you can choose the ticket that fits your itinerary best. You can also buy a combination ticket. With this ticket you won't only get access to the Hop On – Hop Off boats but also to the buses. The buses can bring you to places that are more difficult for the boats to go to, such as the Amsterdam Icebar and the Heineken Experience. So with the combination ticket, you can make sure that you can reach all the famous places with just one ticket.