What is a comfortable modern boat?
4 November 2020
Lovers Canal Cruises has the largest fleet of the Netherlands. It consists entirely of comfortable, modern boats, but what do we mean by that?
In 2016 the entire fleet underwent a substantial upgrade with the installation of new interiors and a fresh coat of paint. On board of our boats you have your own seat instead of sharing a bench with other passengers. This ensures that other passengers do not get into your personal space, leaving you room to relax and enjoy the views. And we haven't been idle since then. Our fleet is constantly being improved and developed.
For the colder days of the year, our boats are heated. The captain controls the heating, so feel free to mention it if you're a bit too cold or warm. A consequence of the colder weather combined with warm bodies and wet coats is condensation on the windows. As anyone with single glazed windows or who wears glasses knows, this cannot always be avoided. Our newest boats and new to be build boats have double glazing which helps to stop the fogging up of the windows so that in future we can offer fog free windows on all our cruises.
Fortuitously, if you just want to go outside for a bit, 80% of our boats have a deck on the back. Some big some small, but it is the perfect place to go to take beautiful photos of the city.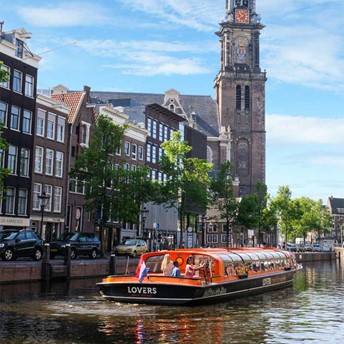 During the summer months, when even in the Netherlands the sun can be burning down on us, all the windows on the boats can open up or you may find yourself on the biggest open boat of the city. Leaving you with a comfortable breeze from the water while surrounded by the UNESCO World Heritage Site of the canals of Amsterdam and no need for an environmentally unfriendly air conditioning system. Even during colder months there is no need to be cut off from the fresh air on our boats. Weather permitting, we also sail with semi-open boats and sloops.
Currently 70% of our fleet is electric and we aim to have this at 100% in 2025. Already, Lovers Canal Cruises, together with its parent company and sister companies, is completely energy neutral. Lovers Canal Cruises promotes environment friendly business with 4500 m2 of solar panels at the main office and an active tree planting programme.