Make the most of your trip to Amsterdam
23 May 2023
Amsterdam is a city filled with many fun attractions and interesting museums to visit. It can be hard to decide where to go and what to spend your money on during your Amsterdam city break. Of course, we always recommend a canal cruise in Amsterdam, to see the city's iconic sights. But there are plenty of other activities we can recommend to you.
An easy way to explore Amsterdam without breaking the bank and see as much as possible is with the Explore Pass. With Explorer Points, you can select from a variety of over 35 attractions and tours. You will save money on regular admission prices. They have even made possible itineraries to make the most out of your Explore Pass.
Canal cruise with the Explore Pass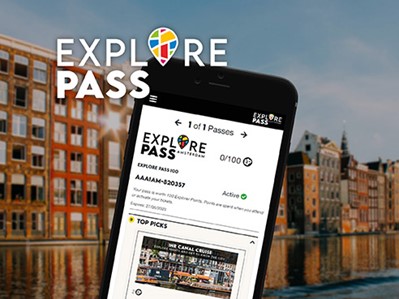 With the Explore Pass you can choose four of our canal cruises in Amsterdam. The 1-hour canal cruise is the most popular in the city. It will take you along the most famous canals of Amsterdam.
When it's warm, you can also opt for a semi-open boat cruise. This boat tour provides an even better view of the city centre. The Explore Pass also offers two of our food and drinks cruises.
Take the New York Pizza Cruise to enjoy a delicious pizza! Drinks and dessert are also provided. As you eat, the canal boat will take you through the canals. Or experience a Wine and Cheese Cruise! Taste Dutch cheeses and different kinds of wine while admiring the iconic canals.
Activities to discover in Amsterdam
While we offer some combination tickets, such as with the Van Gogh Museum. With the Explore Pass you can combine your canal cruise with even more different activities in Amsterdam. There are other tours through the city you can explore.
Such as the Fatbike Tours and the City Sightseeing Amsterdam bus, which you can use for free with the Explore Pass. Take a tour through the historic Heineken brewery or discover the Amsterdam's Jewish Cultural Quarter.
You can even visit several of Amsterdam's best museums with the Explore Pass. The Rijksmuseum, for instance, which is the national museum of the Netherlands. As well as the Stedelijk Museum and Moco Museum, both filled with modern art, can be visited with Explorer Points.
If you want to find attractions that are suitable for children, the Explore Pass has you covered. It offers ARTIS Royal Zoo, NEMO Science Museum, and Madame Tussauds. Other family-friendly options include THIS IS HOLLAND and the Pancake Cruise.
These are just a few of the many activities you can do with the Explore Pass during your stay in Amsterdam. And you don't have to use all your Explorer Points in one day either, as you have a whole year to use up all your points on the pass. This makes the pass a great option for both tourists and locals.