Visit the Anne Frank House and go on a Canal Cruise!
1 June 2021
A lot of canal cruises leave near Amsterdam Central Station, which is great, because it is close to the city centre and easily reachable. But sometimes you are somewhere else in the city and you feel like taking a relaxing cruise along the Amsterdam canals. A canal cruise takes about an hour, which makes them easy to combine with other activities. That's why we offer multiple locations where you can board one of our canal boats.
One of these locations is right next to the Anne Frank House. This museum is the former house and hiding place of the world famous, Jewish wartime diarist Anne Frank. It is the 3rd most visited museum in the Netherlands and a must see when you are in Amsterdam. It was here where Anne Frank and several other people were in hiding in a secret annex during the World War II, as they hoped to survive the war.
When you leave the museum you might feel like taking an Amsterdam canal cruise to let all the impressions from the museum settle in your mind while you see more of the city sights along the Amsterdam canals.

Tour the Amsterdam canals
The Anne Frank House, stands on the corner of the Westermarkt and the Prinsengracht from where our Amsterdam Canal Cruise leaves. The Prinsengracht is the fourth and longest of the main canals in Amsterdam. The canal houses you'll see along the way were mostly build during the Dutch Golden Age, which makes them of great historic value.
Other famous buildings you'll see during the Amsterdam Canal Cruise are the Noorderkerk (Northern Church), the Noordermarkt (Northern Market) and the Westerkerk (Western Church). But this cruise doesn't stay on the Prinsengracht. Though each cruise is unique, you are likely to also visit the other main canals of the canal belt in the historic centre of the city, the Keizersgracht and the Herengracht.
The 17th century canal ring has been part of the UNESCO World Heritage list since 2010. During the cruise, you'll also see famous sights like the Negen Straatjes (Nine Streets), the Magere Brug (Skinny Bridge) and the Amstel river which gave Amsterdam her name.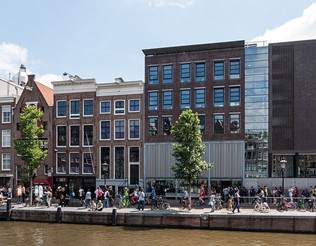 A great value deal
With the boarding location of our Amsterdam Canal Cruise so close to the Anne Frank House and a nice online discount, this is a great value deal. The boat has frequent departures on every day of the week. The modern boats have an audio system in 19 languages, so you can hear all about your surroundings in your own language.
Do you want to board somewhere else to cruise through the UNESCO World Heritage site of the Amsterdam canal belt? We also offer Amsterdam Canal Cruises from near the Central Station and from the Leidseplein (Leidse Square).