Can I safely book a cruise now?
4 September 2020
No one can deny it, the world has changed in the last months. But what hasn't changed is our human desire to explore and discover new sights and sounds. We just want to do so safely. And you can! Cruises, tours, attractions and museums have all taken measures to protect your health. Which measures have been taken? Let's take a closer look at one of our new canal cruises: New York Pizza by LOVERS.
Safely cruise the Amsterdam canals
Before you board the cruise you are asked if you have any Covid-19 related health issues, like a cough, we also ask you to disinfect your hands by using the disinfection spray and we check your temperature at your wrist. On board we limit the amount of people so we can maintain proper social distancing rules and we ask you to remain seated at your allocated table throughout the cruise.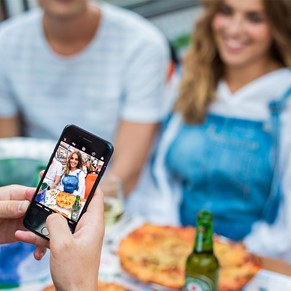 Time for pizza and stunning views
As we cruise to the IJ river, you can enjoy your first drink of the evening. What will you have? A nice cold Heineken, some wine or maybe a soft drink or some water? The choice is yours. As we make a quick stop on the IJ river to pick up your pizza, hot from the New York Pizza ovens, you can enjoy the views of the striking architecture of the Eye Film Museum or ponder swinging on the roof of the A'DAM Lookout.
As we serve your pizza's, we'll make our way to the UNESCO World Heritage site of the Amsterdam canals. Sit back, relax, enjoy the views, your pizza and the occasional fun fact from the captain about the canals and its inhabitants. For instance, did you know there are over 800.000 bikes in Amsterdam. Sometimes they fall into the canals. More than 10.000 bikes are fished out of the canals every year!
Finished your pizza? Don't worry the cruise isn't over yet. It's time for desert, who doesn't love Cookie Dough Chocolate Chip ice cream?
Are you ready to book your New York Pizza by LOVERS cruise?