Art and the canals: Amsterdam is filled with both
15 August 2023
Seeing art is as much a part of visiting Amsterdam as taking a canal cruise is as art and Amsterdam have gone hand in hand for centuries. When the city constructed its famous canals, Rembrandt van Rijn painted The Night Watch. During the last years of Van Gogh's life, the Rijksmuseum was built.
Art along the canals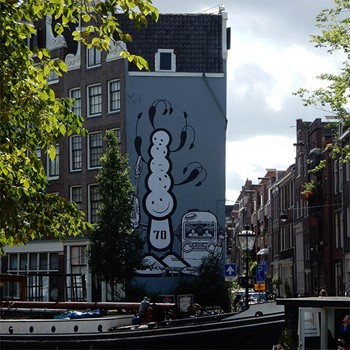 Art exists in many shapes and forms and many types can be seen as you cruise along the canals. While your eye might be drawn towards the impressive canal houses, you can also spot street art and murals. For instance, on the side of Prinsengracht 70, where The London Police have created a mural which bridges the gap between urban art and the classic, typically Dutch architecture of the building.
You should also be able to spot some temporary and permanent sculptures and installations on the edges of the canals. Also fun to keep an eye out for are the green, living artworks that have been popping up lately. As the city renovates and strengthens the quay walls, there is more room for greenery around the canals.
And That Weird Plant Guy, known from TikTok, knows just what to do with those spaces. He has created living willow tables, living willow benches, and even a minidome with stairs for a duck's nest. Though many expected the city to want to remove these creations, the city actually loves them as they are exactly what they want to have instead of, for instance, parking spots.
Amsterdam Light Festival
All the art mentioned above can be seen year round, but winter is a special time for art around the Amsterdam canals. In December and January, the Amsterdam Light Festival takes over the city's waterways. Special cruises are organised well into the evening to give everyone a chance to see the light art of the festival.
This festival has become a tradition in the Dutch capital, reaching its 12th edition in 2023. Each year the light art is centres around a specific theme, meaning the art is different every year. While you can walk along the canals, the art is best seen from the water.
Combine a canal cruise with a museum visit
A great way to experience all the best Amsterdam has to offer is with a combination ticket. That way you can combine a cruise through the city's waterways with a visit to a museum. You can, for instance, combine your cruise with a visit to the Rijksmuseum, the national museum of the Netherlands, or with a visit to the Van Gogh Museum.
One of the newest museums you can combine your cruise with is the STRAAT Museum. Here you will see street art and graffiti in a way you won't see it anywhere else, with context by the artists. Inside the former NDSM wharf, you'll come face to face with art made on location yet big enough to be at home on any building in the city.