Efteling boot vaart door Amsterdamse grachten
Kaatsheuvel, 20 februari 2019
Collaboration between two of the biggest attractions of the Netherlands
Over the next two years, an Efteling cruise boat will sail through the canals of Amsterdam. In this way the Efteling wants to seduce tourists visiting our capital to make a day trip to the amusement park in Kaatsheuvel.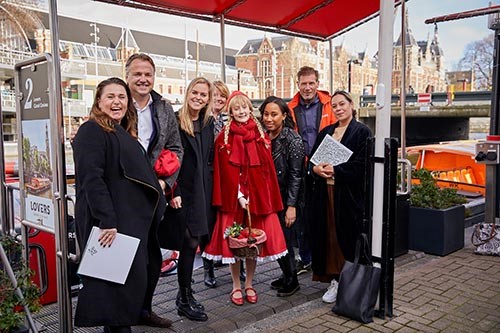 The cooperation between the two biggest attractions in the Netherlands is obvious, explains general director of the Efteling Fons Jurgens: The Efteling is an international holiday destination, but guests can also simply drop in from Amsterdam for a day trip. Many tourists who want to discover the Netherlands make a tour of the canals with LOVERS Canal Cruises and the boats themselves are also an attraction. It is very nice to give shape to our cooperation in this special way'.
Yesterday, Fons Jurgens and Little Red Riding Hood made their first trip on the Efteling boat. At least until 2020, it will sail daily along the Skinny Bridge, the Anne Frank House and other Amsterdam tourist attractions.