Groups
Lovers Canal Cruises is the market leader in canal boat tours in Amsterdam. Our fleet consists of over 45 boats in the traditional Dutch color, orange. Our whole fleet has undergone a serious upgrade, including individual seats and an audio system with over 19 languages (including Spanish, German, but even Hindi and Chinese).
Are you a tour operator, bus company or are you looking for a nice outing with family, colleagues or school?
All kinds of canal cruises
Lovers Canal Cruises is the best choice to discover the beautiful UNESCO-heritage Amsterdam canals. The boats depart from various locations throughout the city, with scheduled services. From early in the morning till late in the evening (9:00 am – 22:00 pm) and on requests for groups. There where catering is involved Lovers Canal Cruises works together with Frans Kelders Cuisinier, a former Michelin star chef. He and his team make the difference on our excellent dinner, candlelight, pizza and burger cruises.
For a parking location to drop off and pick up the group click here.
Lovers Canal Cruises offers the following cruises to groups:
This one-hour cruise takes you through the unique UNESCO Wolrd Heritage canal district. You'll discover all Amsterdam's highlights in just one hour. 
For the first time, during Amsterdam Light Festival we offer this night cruise through the canals of Amsterdam. See all the bridges, houses and streets light up. This cruise does not follow the Amsterdam Light Cruise route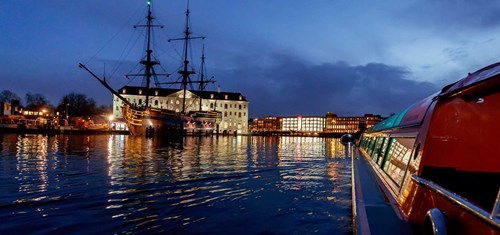 From 28th November until 19th January Amsterdam is hosting the Amsterdam Light Festival. Of course with LOVERS canal cruises you can make reservations for your groups (90 minutes cruise): Groups private (a minimum of 30 pax). Private boats depart from our regular departing point Prins Hedrikkade. Non-private groups joining the regular Amsterdam Light Festival will depart from Loetje.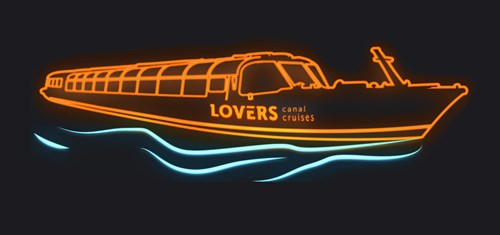 Join us for a fun and delicious Burger or Pizza Cruise! Savor a tasty pizza or burger and drink unlimited beer, wine, and non-alcoholic beverages while enjoying beautiful views.
Enjoy a 4-course meal on the fantastic Dinner Cruise, and discover the heritage-listed canals of the 'Venice of the North' in style. Choose from meat, fish or vegetarian dishes. 
You can't go wrong on a beautiful Candlelight Cruise. Discover the fascinating history of the canals while you savor delicious Dutch specialties and sip exquisite wine. 

Private Boat Rental

At Lovers, we also offer our boats for private rental, which can be combined with delicious catering packages. We offer a wide range of types of boats, which can be used by private groups. 
Bookings
To see what we can do for you or to make bookings, please contact our reservations team via info@lovers.nl.